Just make sure to install exiftool first before you use this tool. On Windows please remove the (-k) from the filename and put the executable inside the plugin folder or at any other place where you prefer to have it. On Mac OS X it's an installable package anyways.
As of Version 1.9.0 ExifTool comes bundled with the plugin.
You need at least Lightroom 3 to run this plugin.
LensTagger is free! Free to download, free to use, free as in beer. There is no extra version for those that have donated. If you have already donated: Thank you very much, I really appreciate it!
Need help installing LensTagger?
Changelog:
Changes in Version 1.9.1:
exiftool 11.75
You can now set LensTagger to use the internal exiftool from the Plugin Manager
Bugfixes for macOS Catalina and Adobe Lightroom Classic 9.0
Changes in Version 1.9.0:
Lens Presets can be Exported and Imported from the Help Menu. In case you want to play with a large list of Nikon Lenses, a sample preset file can be Downloaded here: Nikon.ltpreset.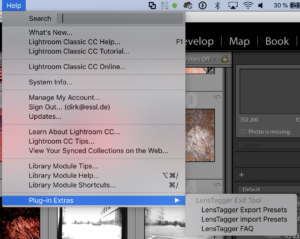 Automatic Metadata Refresh after running LensTagger
exiftool is now internal, but an external version can be configured in the Plugin Manager

exiftool Version 11.34 as of Apr. 4, 2019
Changes in Version 1.8.0:
Changes in Version 1.7.6:
Umlaut Conversion is now an optional setting. (Thanks to Leandro) It seems that Microsoft changed something in their Visual Basic stuff which broke LensTagger on some Windows 10 Installations. This option only has an effect if you are using the Filelist on Windows.
fixed Version number (thanks to Adrian)
fixed typo (thanks to Adrian)
removed the possibility to run LensTagger while Exporting an image. This function was broken from the beginning, anyway.
code cleanup
Changes to Manual:
Added correct info, when installing LensTagger on Mac OS 10.11 (El Capitan)
Changes in Verison 1.7.5:
Fixed a bug when using filenames with Umlauts for filenames on Windows (Thanks to Roland Schindele)
Changes in Version 1.7.4:
Added Lens Serial number (as of feature request)
Changes in Version 1.7.3:
Bugfix for Analog Film options: Cameramake, Cameramodel and ISO where not added to exif correctly
Changes in Version 1.7.2:
Changes in Version 1.7.1:
Fixed error running script if plugin is saved in a path with spaces (Thanks to Nicolas Gasset)
Changes in Version 1.7.0:
Option to load images from a filelist, which solves the 8000 Character limit on Windows
Option to open a logfile to watch the process. For Windows Tail for Win32 is included in the plugin
Changes in Version 1.6.2:
Added Exposure Time (Shutter Speed)
Option to directly write to XMP sidecar file